Creating Value in CO2: How Australia can Help Trading Partners to Decarbonise Profitably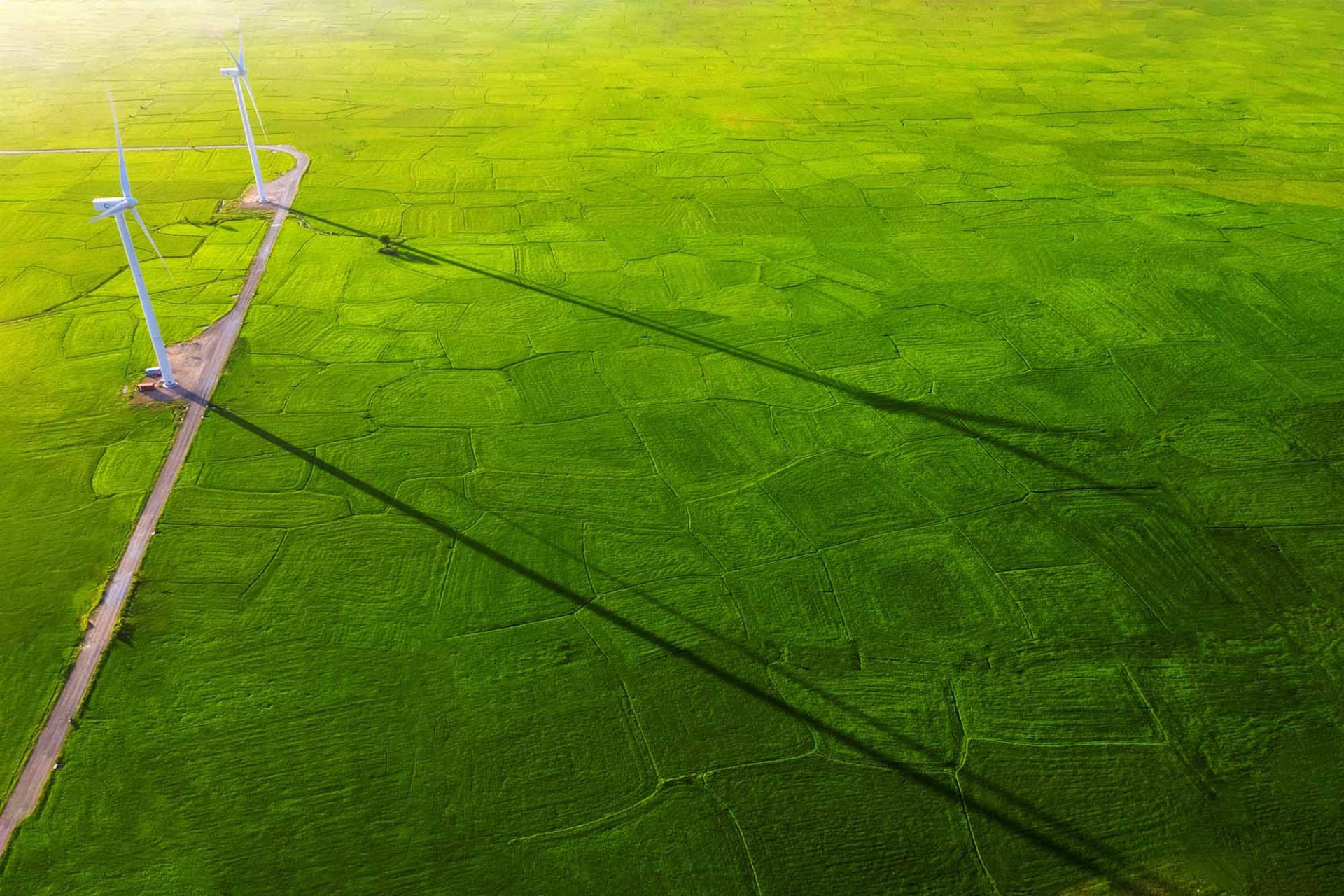 The linear 'take-make-waste' method has been a dominant feature of global production and consumption since the industrial revolution, resulting in hidden waste costs that future generations will have to address.
Business leaders and technologists – conscious of the ten-year deadline required to achieve our Paris Agreement climate change targets and Sustainable Development Goals – are no longer waiting for political action. Innovative business models embracing the circular economy are being developed, firmly based upon the principal that sustainable and future oriented industries should consider their CO2 emissions as a resource that can generate profit.
Carbon Capture and Utilisation (CCU) technologies that divert or remove waste greenhouse gas emissions from the atmosphere and embed them into useful products like cements and synthetic fuels, show great potential both for industry development and emissions reduction.
Australia's core capabilities in bulk handling, research commercialisation and resource processing offer the potential to develop a world-class competitive advantage by developing carbon-processing hubs.
In order to secure sovereign capabilities in advanced manufacturing industries in a post-COVID-19 reset, each country will be faced with the challenge of building industries with low emissions. Australia is well placed to support advanced regional trading partners such as Singapore in this transition. In fact, Singapore is ideally situated as a collaborative partner for Australia, as it features the economic advantage of embedded circularity, yet the emissions target challenge of a strong reliance on fossil fuels. Earlier this year Australia and Singapore committed to expanding their existing cooperation in low emissions technologies. The future of this collaboration is encouraging, with a Memorandum of Understanding expected to be completed later this year that addresses the development of local advanced manufacturing, the transition of heavy emitting industries, and the achievement of climate targets.
'Business as usual' is dead
This year at the World Economic Forum in Davos, business leaders were reminded that we have ten years to achieve climate action and the Sustainable Development Goals, and that circular economy solutions would play a crucial role.
While global climate change politics has flip-flopped, business leaders have stepped up – including investment management billionaire Larry Fink, who outlined in January the dire need for rapid change by stating that sustainability should be at the heart of business decisions because 'climate risk is investment risk'.
Global management firm McKinsey & Company continues to provoke national and international policy making with their carbon mitigation cost-curve. A leaked report by JP Morgan economists predicted that business-as-usual climate change policies would pose an existential threat to humankind and that economic and health cost estimates are likely to be grossly underestimated. For the first time, financiers, consultants and insurance companies are all on the same page, signalling that climate change is a critical issue that needs to be addressed.
The COVID-19 pandemic has caused an undeniable disruption to global business as usual in 2020. Our supply chains and ordinary trade practices have been altered, and the rebuild will take considerable thought and action. Considering we have less than ten years to make big changes to our emissions before we do irreversible damage to our planet and ecosystems, the opportunity for Australia to show climate leadership in the post-pandemic reset is immense.
The circular economy is thriving
According to the Circularity Gap Report 2020, the world is consuming 100 billion tonnes of materials annually (minerals, fossil fuels, metals and biomass), yet only 8.6 per cent of those materials are fed back into the system. The traditional 'take-make-waste' linear model of consumption does not take into account the full life cycle costs of disposal and leaching of materials. Circularity, on the other hand encourages the elimination of waste and the sustainable use of natural resources which capture the value of waste reuse.
It is possible to achieve significant market growth that reduces negative environmental and public health effects. Responsible production and consumption practices should be an imperative for us all, considering the realities we face: plastic rubbish is predicted to overtake fish mass in our oceans by 2050; unbridled pollution results in poor air quality; and waste textiles, food and electronics result in poor environmental and public health outcomes. Circularity also delivers a powerful business case, as the potential global economy has been valued at US$4.5 trillion by 2030.
Opportunities for innovation in the circular economy can be realised in agriculture, plastics, sustainable mining and carbon emissions. Global companies are realising the benefits of being circular market leaders, by supporting technologies that turn a profit from climate change mitigation and create a market mechanism that incentives emitters to voluntarily capture and use CO2.
Covestro, one of the world's largest polymer companies, recently committed to completely aligning its entire production and product range with the circular economy by implementing innovative recycling methods and developing new plastics from biomass and CO2. Mining company Anglo American has also publicly embraced circularity with programs in land rehabilitation, water reuse and the end-of-life repurposing of mine facilities that benefit local communities.
Systems change tailored for circularity can have significant effects on waste, production, efficiency and carbon emissions.
Decarbonisation is crucial for the transition
There is immense opportunity for low-carbon innovation as our world population grows towards ten billion people by 2050, with significant breakthroughs needed to feed, house, power and provide infrastructure. Even as we sprint towards a hundred per cent renewable electricity future, industries such as steel and cement will continue to need emissions-intensive fossil fuels to power their facilities. This will require significant technological advances, behavioural change and coordinated policy action.
Decarbonisation pathways are essential, as our existing fossil fuel infrastructure assets will continue for the next twenty years until their life-end point. If we overshoot our carbon budget, we will need to extract CO2 from the atmosphere using Direct Air Capture Technologies in order to meet our Paris Agreement targets. Taking CO2 from industry or from the atmosphere and embedding it in useful materials or storing it in the earth are technological ways of achieving negative emissions.
Companies like BHP and Rio Tinto have made net zero by 2050 pledges. Microsoft has gone even further and declared a negative emissions target by 2030. What are the realistic ways these companies will achieve these targets? Companies that are good corporate citizens need to consider not only their direct (Scope 1 and Scope 2) emissions, but also the emissions of their downstream customers (Scope 3). This additional responsibility and awareness brings additional challenges and opportunities.
This is a revolutionary change in mindset for business leaders to consider CO2 as a valuable feedstock that can contribute to new product lines that generate profit, rather than a costly, harmful and socially unacceptable liability.
A profitable carbon processing industry in Australia
CCU technologies will play a major role in helping companies achieve net zero emissions by increasing efficiency, electrification and adopting hydrogen as an energy source. These technologies take waste CO2 from industrial sources or the atmosphere and embed them into useful products such as synthetic fuels, chemical feedstocks and building materials such as cements, aggregates, plasterboards and pavers. Other circularity applications include the production of CO2-derived kerosene, which involves the re-use of CO2 numerous times.
The CO2 utilisation industry was estimated by the Global CO2 Initiative in 2017 to be worth US$1.1 trillion by the year 2030, which included locking away 10 per cent of global emissions. In Australia our mining, steel manufacturing and cement production industries – which are a natural fit for CCU technology application – require specific pathways to decarbonisation. Our national market potential will be a feature of the CSIRO's Commoditisation of CO2 Report which is planned to be released in early 2021.
The Australian innovation ecosystem combined with a proximity to Asia mean that Australia is a good contender to become a world-leading carbon processing hub. Companies are already commercialising CCU technologies in carbon-embedded building materials and synthetic carbon fuels in Australia. Attracting and accelerating commercialised CCU-focused ventures requires greater policy certainty, grant funding and access to external capital.
The global pandemic has made every nation more inwardly-focused, as sovereign capabilities in advanced manufacturing and energy take priority. As we navigate our way out of the inevitable economic downturn, we must embed sustainable practices and our Paris Agreement Targets into our recovery plans. It is possible to create jobs and new industries in advanced manufacturing that is powered as much as possible by renewables and has a clear decarbonisation pathway when there is no alternative to fossil fuels.
This is a time to be ambitious and imagine Australia's potential to lead the world in the development and activation of decarbonisation hubs – particularly the options for supporting our regional trade partners.
Decarbonising Singapore
It is important that regional partners work together, particularly as advanced economies such as Singapore simultaneously address the challenges of climate change mitigation with the need for industrial and infrastructure growth. Singapore's commitment to the Paris Agreement and circular economy principles as well its proximity to Australia make it a good fit for future collaboration.
Existing initiatives include the 2005 commitment to reduce carbon intensity by 36 per cent by 2030 (in line with Paris Agreement commitments), the use of cleaner fuels (switching from oil to natural gas), increased use of renewables and the introduction of a carbon tax of $5 per tonne of greenhouse gas emissions. However, the decarbonisation of Singapore's industries will be a key focus of the coming decade with absolute emissions expected rise until 2030.
Due to its constrained natural resources and land, Singapore has taken a mature approach to circularity for some years now. The sovereign investment fund Temasek (through Ecosperity) has supported circular technological innovations in waste management while companies on Jurong Island with JTC Corporation host experts in circular waste streams. Crucially, Singapore has a fully circular water stream where water is recycled more than once. While Singapore may be considered a world leader in circular waste management, it requires support to develop decarbonisation pathways that address its continued reliance upon fossil fuels.
Key opportunities for low carbon solutions in Singapore include the expansion of its industrial infrastructure base and the ongoing reclamation of coastal land mass. Over the past two centuries this island nation has increased its landmass by 25 per cent, yet there is a need for low carbon reclamation strategies and the increased use of green building products.
Recommendations and conclusion
As Australia develops its circular industrial strengths, a number of key challenges persist – predominantly policy clarity, technology diversity, access to financing and regional engagement.
While the Australian Government's Technology Investment Roadmap acknowledges the need to incorporate a range of solutions, including CCU, it needs to remain technology neutral and avoid picking winners too early. The Roadmap should ensure that technological lock-in and lock-out is avoided so that emerging technologies have the potential to accelerate, scale up, and commercialise.
Currently there is an abundance of global finance looking for sustainable infrastructure investment opportunities which Australian technologies could access. Providing policy certainty around low emissions technology support will help technologies to access external capital.
Later this year, the Australian Government will also address regional engagement with a number of bilateral partnerships designed to support industry decarbonisation, including the finalisation of an MOU with the Government of Singapore for the use of low emissions technologies. A clear path forward for CCU technologies, distinct from carbon capture and storage will be crucial.
National energy innovation strategies will also provide opportunities for collaborative regional technology innovation with nations such as Japan, Singapore and South Korea. This includes research exchange programs, the establishment of international campuses for key research bodies and export financing incentives for energy projects.
Australia has an important legacy in key industry leadership (such as primary industry and energy resources) and bulk handling capacity that positions us as a natural regional leader in the field of carbon capture and utilisation. However, one of our greatest competitive advantages is our proximity to Asia – and ongoing engagement with – our regional partners/markets. Australian-Asian collaboration for decarbonisation of industries can provide a very lucrative opportunity to create new markets and regional jobs, transition industries into sustainability and strengthen bilateral relations, while helping the world to achieve the Paris Agreement climate change targets.
Finally, by embracing circular economy opportunities in CCU, waste greenhouse gases can be stored in profitable sustainable products instead of emitting them, reducing the current and future costs of climate change.